Suli Kurban was born in 1988 in Ürümchi (Uighuria, occupied by China). Due to political persecution, she fled to Germany with her mother and brother in 1999. After six years in a home for asylum seekers, she was granted a residence permit in 2005 – she can move into her own apartment.
But language barriers make life difficult. In 2007 she took on the leading role in a film project about excluded young people. With it and for the first time, she gains a perspective for her future.
In 2008 Suli took on a role in "FLUCHTEN 1–4" at the Kammerspiele in Munich. Bayerischer Rundfunk takes notice of her and hires her as a reporter. Suli now reports on social and political issues, especially migration. In 2009 she was awarded the European "Civis Media Prize" for one of her reports.
In 2011 Suli passes the entrance exam at the University of Television and Film Munich and studies directing. Parallel to her studies, she realizes several commissioned productions. In 2019 Suli graduates with her first fictional short film "HAYAT – LIFE". The film was co-produced by Bayerischer Rundfunk and funded by FFF Bayern. It premieres at the International Hof Film Festival.
In 2020 Suli successfully developed her first feature film screenplay "ASIAMANIA – drei Torten drehen durch" in the Drehbuchwerkstatt München.
Today, Suli has obtained the German citizenship, works as a director and screenwriter and lives in Munich.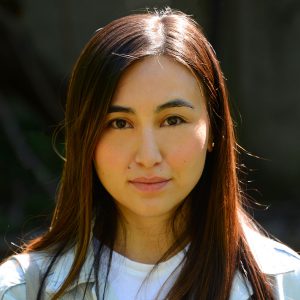 Fiction hybrid, 45 min.
Directed by
Münchner Kammerspiele
Snapchat series, 15 episodes
Written & directed by
LaboM, PULS Bayerischer Rundfunk, FUNK
The incredible Miss Riedl and the Children in India
Documentary, 45 min.
Written & Directed by
Lebenslinien, Bayerischer Rundfunk
Fiction, 30 min.
Written & Directed by
Pelle Film, Bayrischer Rundfunk
Documentary, 90 min.
Co-Director
Pelle Film, Bayerischer Rundfunk
Snapchat series, 20 episodes
Directed by
PULS Bayerischer Rundfunk, FUNK
Fragments of a German Life
Documentary, 29 min.
Written & Directed by
Suli Kurban Media, HFF München
Was kommt nach dem Klatschen?
Documentary, 4 episodes
Written & directed by
Stadtmuseum München, Stadtarchiv München, Suli Kurban Media
Documentary, 45 min.
Written & directed by
Lebenslinien, Bayerischer Rundfunk, Trimaphilm
Fall in love with Basketball
Documentary, 6 min.
Written, directed & edited by
www.arriving-in-munich.de
Video diary, 30 episodes
Written & directed by
Lebenslinien Extra, Bayerischer Rundfunk
Documentary, 52 min.
Written & directy by with Yulia Lokshina
HFF München
Documentary, 9 min.
Written, directed & edited by
HFF München
Documentary, 5 min.
Written & directed by
Münchner Kammerspiele
Uigurische Geburtstagsnudeln
Documentary, 8 min.
Written, directed & edited by
Die Färberei, Suli Kurban Media
Documentary, 16 min.
Written, directed & edited by
Die Färberei, Suli Kurban Media